I purchased a cheap Bluetooth dongle from Newegg a few years back.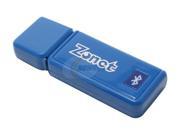 It still works, but I ditched the driver CD long ago. With some sleuthing based on the FCC ID printed on the back of the device, I realized it's the same exact board on the inside as the
MSI StarKey
. I was able to install the MSI drivers on XP without a hitch.
Direct download link
Speaking of which, anyone know of a Bluetooth headset that doesn't pick up WiFi static? I have a
Logitech Mobile Freedom
, which works fine as long as you don't step away from the PC.